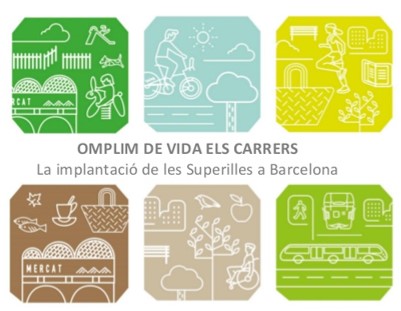 The program of superblocks in Barcelona
The program of superblocks in Barcelona that projected 30 years ago Salvador Rueda, now director of BCN ecology, will have 3 more blocks this year.
A more sustainable city model
Barcelona wants to return the public spaces of the city to its citizens. Superblocks in Barcelona consist of reducing or eliminating motorized traffic on several streets, improving pavements, lighting and sewerage. And so, make the streets and squares are places to meet, to play, for cultural, economic and social exchanges. As a result, the city will have a cleaner air, green spaces and peaceful traffic.
Many and diverse initiatives from lots of the Spanish and international city councils. Paris, Madrid, London and Berlin work on urban plans to remove access to their centers to all vehicles that are not residents or public transports.
A controversy when implementing
The superblocks in Barcelona are new urban cells of about 400 or 500 meters on each side, where they can't cross vertically or horizontally, as they have done up to now. You can only enter and exit through a single lane. The famous "Loop" that drives the motorized mad and is the point of discord.
Also, Ton Salvadó, director of urban model of the City Council; said correctly that "Although the thesis of reducing car use in the city is widely shared, when the measure affects their day to day, in many cases it happens to be seen as an attack. Touching the car is never a simple mission. "
It costs a lot to adapt to the new rules of the road. But after a transition phase the benefit to the neighbourhood and complaints disappear.
From Piso Shopper, your flat hunter in Barcelona, ​​we will explain you the projects of superblocks in the neighborhoods you are interested in. Gracia in 2006, Poblenou in 2016, Horta and Sant Antoni in 2018, Les Corts in 2019, and many more to come. If you also want to become a protagonist of theses superblocks of Barcelona, contact us now.